Imagen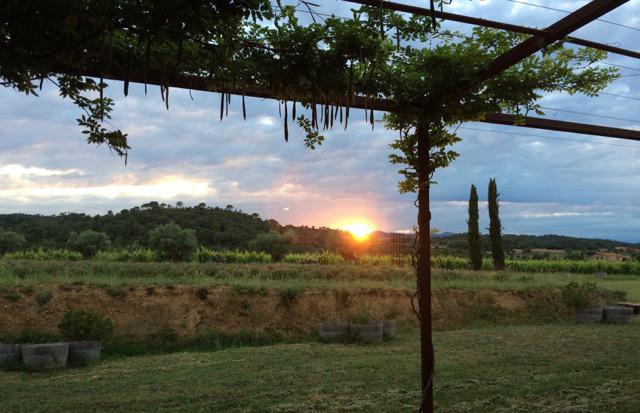 Walking hand in hand with María de Polanco and Guy Jones I have been able to see up close the growth and learning of those who do not settle for the luck of the beginner, of those who generously share the road traveled, I have learned that the one who does not know and ask, should not pass any shame, that wanting to know is the end, but that the best is the way and I can attest to that, because Maria has taught me without hesitation and we live together in our break to the Dive Bouteille in 2012 great trip!
Maria, Guy and Lucas, are installed in Cruïlles, Baix Empordà, at the foot of the Gavarres. They have always been very clear about the type of viticulture and wine they wanted to make and for that they have let themselves be guided by their intuitions and have also been left to advise. The implication that they have with the environment, with life, the vineyard, the trees (María embraces them and does it from the heart), the animals ... is a rush of energy for those who visit them, but the reality is that the climate is capricious, making the wine you want is not always easy and selling it also has its difficulties, but even so, going through a decline in wine consumption, a generalized crisis and a bad vintage in the Empordà 2013, they They have gotten! Thanks also to the good understanding you are having with Fredi Torres, but you are going to allow me to applaud especially Maria and Guy for their constancy and coherence.
His wines reflect his career, you can visit his website Sota els Àngels where you will find detailed information, but to me, what has moved me these days is to see how the road no longer only leads them, but that they are the ones who build it.
The example, these two wines:
Between them there are 3 years apart. Sota els Angels 2010, hand-labeled, its first natural and experimental wine, fruit of its needs of little intervention in the process. I still have this bottle that they gave me for my 41 years, a rainy day.
Flow 2013 (white and red) natural wine result of a bad vintage, a stubble in spring that affected the vines, wine rejected by the DO Empordà, wine that reflects the will of Maria and Guy, tremendously good result of which some saw difficult to get, since sometimes "the place where you want to live ... is not the best for the vineyard", personal wine that will open many doors, wine to open one bottle after another, wine, wine, wine ...
Having lived closely the achievements of Sota els Àngels, leads me to question topical phrases of wine:
Do bad vintages really produce bad wines? or so they have made us believe
The famous "terroire" should not refer mainly to people?
The denominations of origin should not reflect all the realities of a territory? I think they are becoming obsolete and should be updated.
Are the tasting parameters that have taught us valid for all wines?
If you want answers, you will have to drink Flow 2013 from Sota els Àngels and answer them yourself, so for me it is a wine that expresses all the fresh fruit, earth, clay, aromatic depth, lilac flowers, intensity and lightness in the mouth, Amazing easy drink, Mediterranean step of the Sota els Àngels road.
Clara Isamat April 2, 2014.