Imagen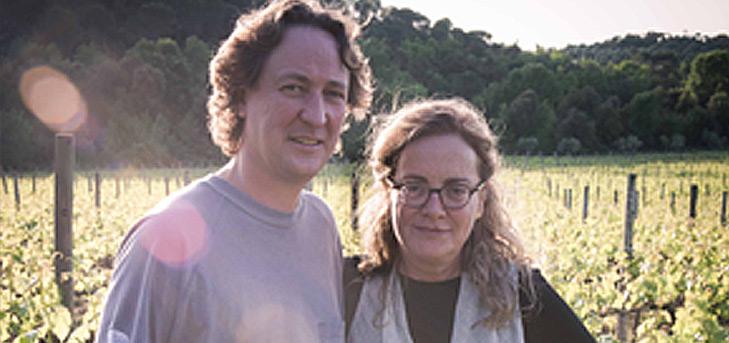 Nestled amidst les Gavarres, the final foothills of Catalonia's coastal cordillera, lies the municipality of Monell, Cruïlles i Sant Sadurní de l'Heura. An acutely charmed locale, these mountains, where Josep Pla saw "elephantesque" shapes, are carpeted by a prototypical Mediterranean forest where we find Cork Oaks (used by the traditional and artisanal cork industry) and Holm Oaks, resplendent between the pure sky and an undergrowth of brush and young pines.
Sheltered by two of the forest's hills, located in a remote and peaceful thicket, we come across the Sota els Àngels Estate vineyards, which seat beneath the mountain that lends its name to the winery and its excellent red wine, heralded by the most salient oenologists.
Eight hectares of luscious green, of gorgeous stocks that emit a flower-garden air, thanks to the virtues of biodynamic agriculture their owners and team of oenologists practice with devotion and care. This is a place of worship that brims with souks and ancient wisdom.
María Jesús de Polanco and her husband Guy Jones set aside their viticultural chores and come to greet us. Guy imparts an introduction on the enigmas of biodynamic agriculture, a means of farming derived from the theories of Rudolf Steiner, an Austrian philosopher and Goethe disciple, who defended thought as a realm of practical knowledge comparable to the senses.
When applied to agriculture, his ideas, which today have spread, in great part, to farms in India, the US and Australia, are based on a sustainable ecological system, while his theories predate the appearance of the term "organic".
Aspects that include planting in accordance with the movement of the moon and the planets, or fertilising the land with scientifically prepared natural products, with a base of medicinal herbs native to the area and manure, are some of the keys that help this vineyard yield a crop worthy of more traditional wineries.
M Jesús takes a seat on an improvised porch adjacent to the state's old Catalan farm house. In an effort to revive the grandeur of traditional architecture, they are restoring the house by recuperating practical, discreet elements such as the "badius" (arches formed by bricks laid in book form) and the unique structure of Baix Empordà rural houses.
The vineyard stroll has warmed us. Thus, resting in front the old Holm Oaks, as in time had come to a halt, we are able to appreciate the inviting beauty of the Empordà twilight still more.
How did a photographer and journalist from Madrid end up here and decide to start making wine?
Well, you see, after a stressful stint working as a journalist, I felt I needed something else, something like de need to express myself in a different way, so I decided to go and study photography in the US. After the course I found work in the world of film production, and while I was one of the people who managed to get the "Too Much" project off the ground, the one Antonio Banderas launched in Hollywood, I realised the whole thing was still to crazy: work, work, work, and hardly any time to discover what I felt I needed to express. Several years later, I was asked to be godmother in the baptism os one of my best friend's sons, who lived in London, and that's where I met the baby's godfather: none other tan Guy.
How romantic. You were meant to be.
Well, I think things happen when they're supposed to happen. I went to the US to study, and I ended up finding the rest of my life. We settled down in northern Wales, Guy's birthplace, but England ended up being too uptight for me. I couldn't adapt to such a traditional, closed society, so we started looking for a place where we could start a new life together. Our son had been born by then, so we needed to establish roots somewhere.
Coming from northern Wales, how did you wind up in a country house in "les Gavarres"?
Truth be told, we looked at Majorca initially, but didn't find anything that seriously grabbed our attention. Conversely, this was the first house we saw in the Empordà, and while we kept on looking, nothing else came close; we had found the right place here in this marvellous spot, and we launched ourselves head first into the vineyard and winery project. It's funny, never before in my life, neither here nor there, I been as rooted as I am in this place.
Your wine has received excellent reviews from renowned sommeliers like Josep Roca from El Celler de Can Roca. How have you managed this in such little time?
Because we believe in what we're doing. We are convinced that the connections with nature and one's own knowledge is the creative basis from which to produce quality products. That's why we implemented biodynamic viticulture, because it's not just about making wine, it's a way of life that channels the surroundings and one's own intuition, the soul that lives inside us and helps us feel at peace with ourselves and everything we do.
That sounds very "Zen"
(laughs) It is, it is. I'm passionate about personal knowledge, balance, creating places for people to meet… I don't know if you noticed the tasting hall we've rehabilitated next door to the cellars, but it's an area we've named "Almazen", and the "z" isn't superfluous. It's about creating a space where diverse people can gather, from all over the world, or from right next door, who feel the need to share with nature this wholeness that emanates from it, and which make us feel truly free.
Does this influence the quality of your wines?
I think it's all related. Yet, talking specifically about how we make Sota els Àngels wines, the quest to find a balance with nature is tantamount, a constant challenge, a way of life that grows with us from day to day.
For example, we use a blend of medicinal herbs and rain-water to spray the vines at dawn, when the plants benefit the most: both pruning and racking the wine are done on certain days depending on the lunar cycles; we are constantly strolling among the vines, checking their condition, always on the look-out fir a sign that could warn us of a need to act. As you can see, we need to communicate with the plants.
Does this singular treatment extend across the entire production process?
Grape collection is also done completely by hand, and we use small boxes that hold around fifteen kilos. Thus the fruit reaches the winery in optimum conditions and, following a final review on the belt, no bad fruit is used.
Frome there it goes to the fermentation vats, which resemble those from any other cava. While the building is quite simple, it was designed so that the wine is decanted while it travels down into the oak casks in the barrel room. In this underground room, the natural temperature remains between 13 and 15 degrees Celsius all year round.
What kind of grape do you use? Any variety that stands out from the others?
To make red wine we've planted merlot, syrah, cabernet sauvignon, samso and carmenere. This last one was re-discovered in Chile. It was a variety that had disappeared in Europe due to phylloxera in 19th century; it's not very common. Altogether, we make red wine from five varieties. For white wine we use viognier and picapoll.
Does producing quality wine through such a meticulous process yield much profit in today's day and age?
All of our efforts are geared towards [making a profit], and, at the moment, we're satisfied with the investment with regards to the reviews, we're received from experts, but naturally we hope to make a living off of this. We've managed to get this far, with our latest vintage, and now wine has the last word.
How would you define this word in terms of numbers?
We first harvested the grapes in 2007 and began selling in 2009. Altogether we produced 6,000 bottles of red wine and 1,500 bottles of white. The second harvest, in 2008, yielded 7,000 bottles of red and 2,000 of white. As you can see, we produce a small number of bottles; the wine is very select.
Why did you name Sota els Àngels?
Because we're located underneath the dels Àngels Mountain, a truly magical place, which we adore. We thought it would be the ideal name for this slightly French, very elegant wine. We're now producing another wine, which will be called Desea. While its production process is less laborious than Sota els Àngels, and will therefore be sold at a more economical price, we have refused to renounce quality, and our natural vineyard.
While we are busy chatting, Guy goes to the school to pick up their son, a blond-haired boy who converses naturally in three languages and plays excited with the family dogs, who in turn co-exist amicably with a kitten that Guy received as a gift from his son. In wine is indeed the drink of the gods, then here, in this paradise, they have found their winery.